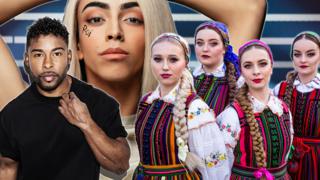 "It's every artist's dream to perform on this stage, " explains 16 -year-old singer Zena.
As this year's youngest Eurovision Song Contest contestant she can't hide her excitement at participate in the "most popular contest in the world".
She's representing Belarus at the competitor – held in Tel Aviv, Israel, this year – and is one of the many acts helping transform Eurovision's image, which is sometimes seen as a bit of a joke in the UK.
Other regions have expended years developing a formula hoping to win – and host it the following year – by mailing some of their most popular and critically acclaimed acts.
The show is the world's biggest live music event and is hugely popular with younger viewers.